MidwayUSA is pleased to announce the launch of our Master Catalog #35 as a digital edition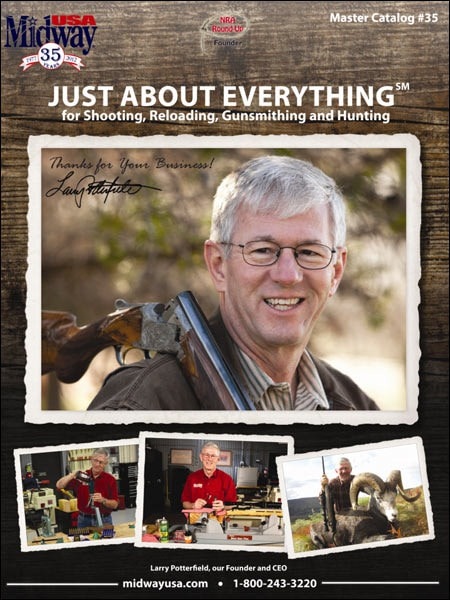 by MidwayUSA

Columbia, MO -

MidwayUSA's Master Catalog #35 is the perfect guide to the over 100,000 products. As more and more Customers order online, we will focus on serving Customers through digital publications, EblastsTM and continuous improvement to our website.
"We're really excited about moving our Master Catalog to a digital edition for our Customers," says Aaron Oelger, Vice President of Marketing. "Over the last few weeks, I've been using this catalog on my iPad to search for products and I understand how the digital edition will improve the shopping experience for our Customers."
This catalog includes products from the following categories and more:
Ammunition
Archery
Auto & ATV
Books, Videos & Software
Camping & Survival
Clothing
Footwear
Gunsmithing & Gun Parts
Hunting
Knives & Tools
Military Gear
Optics
Reloading
Self Defense & Police
Shooting
There are over 1,040 pages in this new digital edition, complete with color photographs, firearm schematics, reference charts, detailed product information, and an extensive index to help you find exactly what you need. You can even download these files to your tablet, laptop or smartphone and take the MidwayUSA Master Catalog with you everywhere you go! You can download the digital edition by visiting our Catalog Center and selecting MidwayUSA Master Catalog #35.
About MidwayUSA
MidwayUSA is a family-owned catalog and internet retailer specializing in JUST ABOUT EVERYTHING® for Shooting, Reloading, Gunsmithing and Hunting. Now celebrating our 35th Anniversary, Larry and Brenda Potterfield turned their passion for shooting sports into a career in 1977 by opening a small retail firearms store that would eventually become MidwayUSA. MidwayUSA is still owned by the Potterfield Family and Customer Satisfaction is still our Number One Goal.
Contact:
MidwayUSA Public Relations
pr@midwayusa.com