MidwayUSA Launches Firearm Safety Videos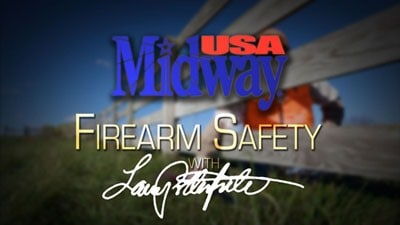 by MidwayUSA

Columbia, MO -

MidwayUSA, a catalog and Internet retailer offering JUST ABOUT EVERYTHING® for Shooting, Reloading, Gunsmithing and Hunting, is pleased to announce a new series of Firearm Safety Videos, now available FREE at midwayusa.com/safety.

These high-quality videos are designed as instructional tools for teaching the safe handling and use of firearms. Visual and audio support in a classroom environment facilitates better recall and retention of the lesson. By utilizing these free, high definition Firearm Safety Videos, to support classroom or at home instruction, students are more likely to remember the lesson and incorporate their new knowledge in the field. Each 90-second video has a descriptive name and teaches one or more Basic Firearm Safety Rules.
"Firearm Safety, Gun Safety or Hunter Safety; it doesn't matter which term you use, this is a very important topic for everyone who spends time around guns – whether as a collector, a shooter or a hunter," says Larry Potterfield, Founder and CEO of MidwayUSA. "We saw a need for short, well-focused videos to help people learn how to safely be around and use firearms and we believe this new collection will meet this need."
Larry Potterfield will formally announce the new Firearm Safety Videos on Saturday, May 30, at 1:30PM in the NRA Booth at the NRA Annual Meetings & Exhibits in Pittsburg, PA. The announcement is a press event and the public is encouraged to attend.
For more information about the Firearm Safety Videos or to view the videos, please visit midwayusa.com/safety.