MidwayUSA Launches Military Gear Products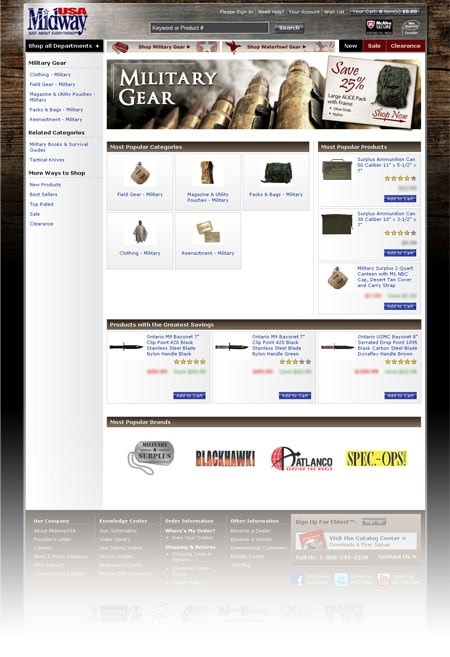 by MidwayUSA

Columbia, MO -

Columbia, MO - MidwayUSA, a catalog and Internet retailer offering JUST ABOUT EVERYTHING® for Shooting, Reloading, Gunsmithing and Hunting, is pleased to announce the launch of the Military Gear line.
"We are very excited about our new Military Gear line where we are offering our customers a wide selection of excellent condition Military Gear, as well as Factory Direct new military issue clothing and gear," says Jason Slinkard, Military Gear Product Line Manager at MidwayUSA. "In 2012, we will also be expanding into military reenactment and historical period gear."
The Military Gear expansion includes a variety of products:
BDU Pants & Jackets
First Aid Kits
Hydration Systems
Magazine Pouches
MOLLE Pouches & Vests
Recon Packs & Backpacks
"Military Gear has always been popular in the shooting sports community due to its high quality and durability," says Jeff Larkin, Vice President of Merchandising. "MidwayUSA is proud to expand into this category with new military spec products from brands like Atlanco, Blackhawk, CamelBak and Tru-Spec, and some high quality previously issued gear."