MidwayUSA now carries Waterfowl Products!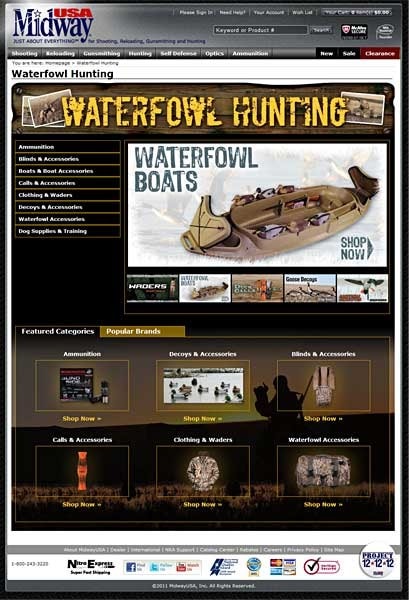 by MidwayUSA

Columbia, MO -

MidwayUSA, a catalog and Internet retailer offering JUST ABOUT EVERYTHING® for Shooting, Reloading, Gunsmithing and Hunting, is pleased to announce the expansion of the hunting line to now include waterfowl gear.
"At MidwayUSA, we're committed to our Customers and focus on offering the right gear at the right price to the hard-core hunters we serve. We know what it takes to hunt waterfowl, and we've added almost 1,500 new products that will help make our Customers more successful in the marsh," says Bob McNulty, MidwayUSA's Hunting Department Product Line Manager. "From decoys and waders to blind bags and calls, we carry what you need to hunt ducks and geese on the water or in the field. We're excited to offer our customers the best, most recognized names in waterfowl hunting. Our Customers can expect us to expand this line even more in 2012."
The waterfowl expansion includes a variety of products from the following categories:
Customers will find a number of world-class brands, such as Drake, Avery, Flambeau, Mojo, Zink and RNT.
"For the last several years, Customers have asked when we are going to sell waterfowl gear," says Larry Potterfield, Founder and CEO of MidwayUSA. "I'm pleased to say that day is here. Our team has done a great job offering just about everything our Customers could ever want for duck and goose hunting."