MidwayUSA Offers Exclusive Geissele Super-Dynamic AR Triggers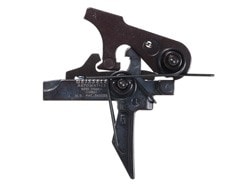 by MidwayUSA

Columbia, MO -

MidwayUSA, the catalog and internet retailer with "JUST ABOUT EVERYTHING® for Shooting, Reloading, Gunsmithing and Hunting," is pleased to announce the release of the Geissele Super-Dynamic line of AR-15 triggers, available exclusively at MidwayUSA.
"We listened to our Customers and partnered with Geissele Automatics to create a series of triggers that met our Customers' requirements," says Gunsmithing Product Line Manager Peter Eiberger. "These triggers feature a flat trigger bow that many shooters prefer and slightly increased trigger reach for proper finger placement. We are very excited to offer these triggers to our Customers"
The Geissele Super-Dynamic trigger is available in three versions: Combat, Enhanced, and 3-Gun.
The Combat trigger features a 2.5-3 pound first stage and a 2 pound second stage. The Combat trigger retails for $209.99.
The Enhanced trigger has a 2.2 pound first stage, a 1.2 pound second stage and crisper break. The Enhanced trigger retails for $224.99.
The 3-Gun trigger was designed with input from competitive multi-gun shooters and features a "hybrid" 3.5 pound pull and shorter reset for rapid engagement of multiple targets. The 3-Gun trigger retails for $234.99.
The Geissele Super-Dynamic triggers are available exclusively at MidwayUSA (prices subject to change).