MidwayUSA Offers Exclusive Viper HS Tactical Scope from Vortex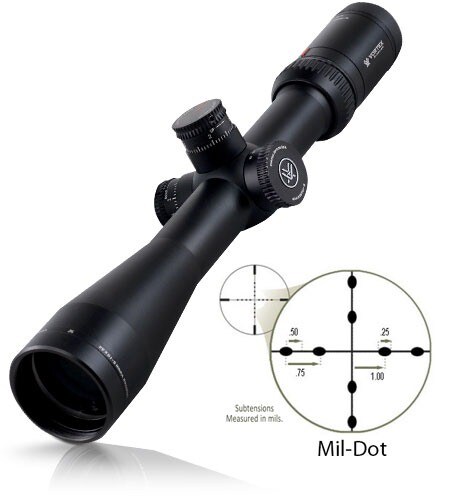 by MidwayUSA

Columbia, MO -

MidwayUSA and Vortex have worked together to bring Customers the newest addition to the Viper HS line of rifle scopes, and it can only be found right here at MidwayUSA.

The MidwayUSA exclusive Viper HS Tactical 5-15x 44mm has all of the characteristics in the Vortex HS line of scopes. The Mil-Dot reticle, matched with the 1/10 mil click adjustments, eliminates the need for any conversions from MOA to Mil. The reticle is also calibrated for range estimation when at 15 power magnification. The red fiber optic on the ocular allows you to check the magnification setting when using the Mil-Dots for holdover and range estimation. Constructed of high grade aluminum, the one piece tube allows for ample mounting space and 100% weatherproofing. The fully multi-coated lenses provide unmatched clarity and superior light transmission under any lighting condition.
"We saw demand for a scope that was just a little different from anything else that was available, and Vortex was a great company to work with to bring this product to market," said MidwayUSA Optics Product Line Manager Bob McNulty. "Vortex makes fine optics for shooters who are serious about accuracy. With a few tweaks we were able to leverage the Vortex name and history of outstanding quality and craftsmanship on a scope that filled a niche in the market, and I think our Customers will benefit from this partnership for years to come."
Additionally, this exclusive scope features side focus, audible positive click adjustments with customizable rotational stop, fast focus eye piece, and it's covered by the Vortex VIP Unconditional warranty.
"MidwayUSA has been a great partner for Vortex and significant in helping promote and grow the brand," said Vortex Optics National Sales Manager Joe Hamilton. "With our shared commitment to serving Customers and their prominent position in the industry, offering an exclusive riflescope for them just seemed like a natural fit."
Contact:
MidwayUSA Public Relations
pr@midwayusa.com