MidwayUSA Official Command Center Sponsor on New Tactical TV Show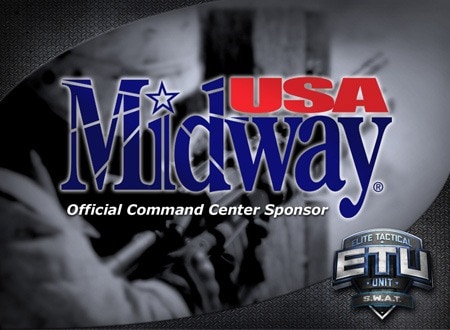 by MidwayUSA

Columbia, MO -

Premiering in 2013, Outdoor Channel's Elite Tactical Unit (ETU): SWAT, is areality-based program that follows officers from the 20 largest metropolitan areas in the United States. ETU divides active-duty SWAT officers into two teams where they will compete in a series of extreme tactical challenges.MidwayUSA is excited to announce their role as the Official Command Center Sponsor for each team.

Whether you're a shooter, reloader, gunsmith or hunter, ETU: SWAT is sure to meet the entertainment needs of every viewer. Over the course of 13 episodes, teams will shoot targets from a helicopter aerial platform, rescuehostages with night vision, and engage in long distance precision shootingunder extreme distance and wind conditions.
"MidwayUSA is excited to sponsor this show because it offers something for everyone involved in the shooting sports industry," said Vice President of Merchandising Jeff Larkin. "Whether you're an Action Pistol shooter, a 3-Gunner or andF-Class shooter, each of the team challenges makes you feel like you're out there competing."
Each episode will also feature short videos from MidwayUSA founder and CEO Larry Potterfield, offering gunsmithing and shooting tips on the AR-15 and the 1911. Plus, both teams will travel to MidwayUSA via their Mobile Command Centers to prepare for a long distance target challenge.
"ETU: SWAT is designed to capture the elements of a professional unit of SWAToperators," said Outdoor Channel National Accounts Manager Teresa Chiniaeff. "This is not your typical 'reality SWAT' or 'law enforcementprogramming'."
ETU: SWAT premieres Wednesday; January 3, 2013 on Outdoor Channel at 9:00 p.m. EST during MidwayUSA's Wednesday Night at the Range, and is the creative result of Tim Cremin, Executive Director, who earlier this year, took home a Golden Moose Award at the 2012 SHOT Show for his work as Producer/Director of MidwayUSA's Gun Stories.
Contact:
Beth Cowgill
MidwayUSA Public Relations
pr@midwayusa.com