MidwayUSA Once Again Aimpoint Commercial Dealer of the Year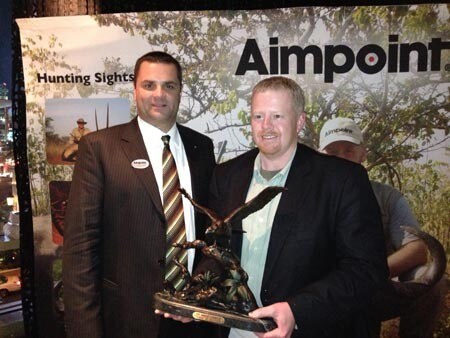 by MidwayUSA

Columbia, MO -

For the sixth year in a row MidwayUSA has earned Aimpoint's Commercial Dealer of the Year award, an honor given to companies that demonstrate a continued commitment to Customer service as well as a consistent increase in sales.
"MidwayUSA's Customer following is a perfect alignment with the products that Aimpoint offers and we are extremely excited with their success in our line," said Dave Pasienski, Director of Aimpoint Commercial Sales. "Aimpoint is proud to have MidwayUSA as a strategic partner, and it's an honor to present them this award for the sixth year in a row."
The partnership between MidwayUSA and Aimpoint began over 10 years ago with an offering of only eight products. Today, because of their dedication to serving Customers, they have developed a partnership that continues to provide quality products and top notch service to MidwayUSA and Aimpoint Customers year after year.
"We are humbled to receive this award," said Michael Jennings, MidwayUSA Optics Product Line Manager. "Many thanks to our Customers for making this possible, and to Aimpoint for supporting us all these years."
MidwayUSA carries a wide variety of Aimpoint products including Red Dot sights, Holographic sights, and scope mounting rings, bases and accessories. To view all the Aimpoint products offered by MidwayUSA, visit https://www.midwayusa.com/brand/aimpoint.
Contact:
MidwayUSA Public Relations
pr@midwayusa.com