MidwayUSA Parking Lot Becomes Temporary Landing Zone for ETU Team Leaders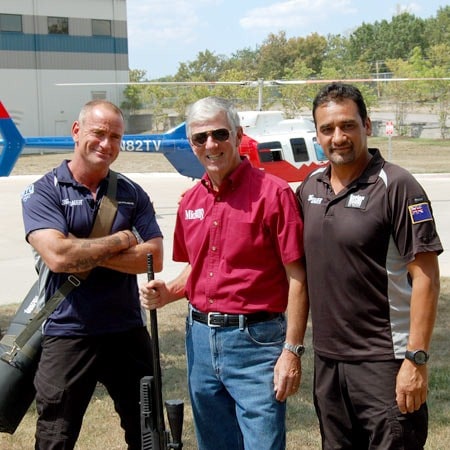 by MidwayUSA

Columbia, MO -

On Wednesday, August 22, for the first time in MidwayUSA's history, a helicopter touched down in the company's parking lot as the team leaders from Outdoor Channel's "Elite Tactical Unit: S.W.A.T." (ETU) show, arrived to meet with founder and CEO Larry Potterfield about a very important assignment.

In preparation for one of the reality shows challenges, team leaders Terry Schappert (Blue Team) and Adam Hamon (Black Team) came to MidwayUSA to sit down with founder and CEO Larry Potterfield and discuss suitable products that might be used to outfit a long distance precision rifle. In Episode 9 of the adrenaline-fueled competition, each remaining S.W.A.T. operator member will be responsible for accessorizing a rifle able to withstand extreme distance and wind conditions in a long range challenge.
"If you would have told me 35 years ago that one day a helicopter was going to land in the MidwayUSA parking lot for a TV show, I wouldn't have believed you," said Potterfield. "It was an honor having the ETU team leaders here and showcasing all the wonderful products that MidwayUSA offers our Customers."
Last month, MidwayUSA also announced their role as the Official Sponsor of the shows Command Centers, two vehicles that will accompany each of the two ETU S.W.A.T. teams throughout the course of the show.
"Every time I come out to MidwayUSA, I'm always impressed by the facility and the number of different products they have available to their Customers," said Director Tim Cremin. "Larry Potterfield has a wealth of knowledge on all things firearm related, so Terry and Adam were able to get some great shooting tips from a great teacher."
"Elite Tactical Unit: S.W.A.T." premieres in January 2013 on Outdoor Channel during MidwayUSA's Wednesday Night at the Range. For more information, visit www.outdoorchannel.com.
Contact:
Beth Cowgill
MidwayUSA Public Relations
pr@midwayusa.com