MidwayUSA Reaches 100,000 Fans on Facebook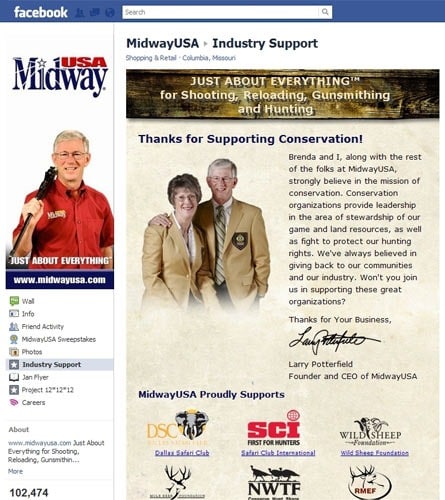 by MidwayUSA

Columbia, MO -

Only four short months ago on September 1, 2011, MidwayUSA launched a new channel of communication with an official Facebook page. Monday, January 10th, marked a milestone for the company as the one hundred thousandth fan "liked" the MidwayUSA Facebook page.

To date MidwayUSA has posted 266 status updates which include Eblast notifications, GunTec updates, Key Conservation Group updates, Giveaways and Sweepstakes.
"Our Facebook page allows us to better engage our Customers," said Aaron Oelger, Vice President of Marketing at MidwayUSA. "Since the page launched, we've had over 114,000 engagements between our fans and the content we are providing."
MidwayUSA Facebook Highlights:
Bowhunter's Dream Package Sweepstakes
MidwayUSA Truck Decal Thursday
GunTec – Behind the Scenes with Larry Potterfield
Updates from MidwayUSA's involvement with the NRA and Key Conservation Group Support
MidwayUSA Facebook fans are notified of great deals on clearance items and exclusive discounts on products. Fans also have the opportunity to follow Larry Potterfield, our Founder and CEO, on his gunsmithing projects, his personal hunts and his visits to conservation conventions and trade shows.
Be sure to visit the Official MidwayUSA Facebook page and "Like" us today! Thank you for being our fan!
About MidwayUSA
MidwayUSA is a family-owned catalog and internet retailer specializing in JUST ABOUT EVERYTHING® for Shooting, Reloading, Gunsmithing and Hunting. Now celebrating our 35th Anniversary, Larry and Brenda Potterfield turned their passion for shooting sports into a career in 1977 by opening a small retail firearms store that would eventually become MidwayUSA. MidwayUSA is still owned by the Potterfield Family and Customer Satisfaction is still our Number One Goal.