MidwayUSA Recognized as a "Best Place to Work" in Columbia, MO for 2011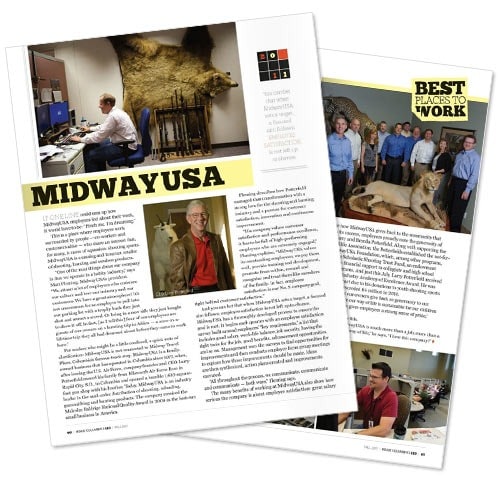 by MidwayUSA

Columbia, MO -

MidwayUSA, a catalog and Internet retailer offering JUST ABOUT EVERYTHING® for Shooting, Reloading, Gunsmithing and Hunting, was recognized this week by Inside Columbia's CEO magazine as one of the "Best Places to Work" in Columbia, MO for 2011.
"It's always special to be recognized by your peers and your community," said Larry Potterfield, Founder and CEO of MidwayUSA. "Back in 1977, when Brenda and I first opened the business, I'm not sure I dreamed MidwayUSA could be the place it is today, but we've hired a lot of great people who have genuinely made this an outstanding place to work, especially for employees who love shooting and hunting as much as we do."
More than 50 Columbia businesses applied for the Best Places to Work award for 2011 by articulating what makes their workplaces special. After reviewing all applications, the magazine staff and two outside judges narrowed the applicants to the Top 5 companies. After a review of each of the Top 5 companies, the staff and judges awarded CARFAX as the Top Place to Work in Columbia, MO for 2011.
"MidwayUSA values our outstanding employees; we pay them well, provide training and development, promote from within, reward and recognize, and treat them like members of the family. In fact, employee satisfaction is our number two company goal, right behind customer satisfaction," said Matt Fleming, President of MidwayUSA. "We appreciate this award from Inside Columbia's CEO magazine and we really appreciate the employees who make MidwayUSA a great place to work.