MidwayUSA Recognized as "Top Master of Technology"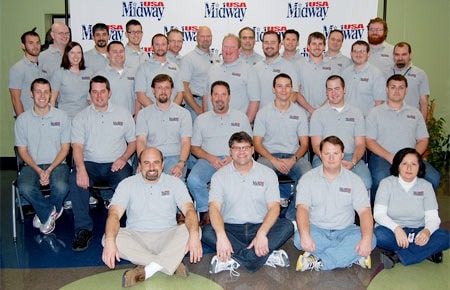 by MidwayUSA

Columbia, MO -

Last month, InformationWeek (IW) announced the 24th annual IW 500, a list of companies in the United States whose business technology teams have made a notable improvement to how their company operates. MidwayUSA was named one of those top companies and "Top Master of Technology".

According to IW, to be considered for "Top Master of Technology", companies must submit a rigorous application on their business technology strategies. The ranking process is both quantitative and qualitative, and applicants earn points based on a questionnaire and the achievements they outline in an essay submission. Applications are evaluated by a panel of IW editors. The survey data is aggregated across all IW 500 companies and by industry; individual responses are kept confidential and individual company data is never disclosed without permission.
"MidwayUSA has great processes and innovative ideas to help us collect and manage advanced ways to improve our systems and meet our Company Goals," said VP of Information Systems Joel Felten. "As we strive towards our vision 'To be the best-run business in America', this is an award we can all be proud of!"
MidwayUSA shared this honor with some of America's most reputable financial institutions,hospitals and pharmaceutical companies.
About InformationWeek
InformationWeek is the business technology market's foremost multimedia brand. We recognize that business technology executives use various platforms for different reasons throughout the technology decision-making process, and we develop our content accordingly. The real-world IT experience and expertise of our editors, reporters, bloggers, and analysts have earned the trust of our business technology executive audience.
Contact:
Beth Cowgill
MidwayUSA Public Relations
pr@midwayusa.com