MidwayUSA Releases Master Catalog #34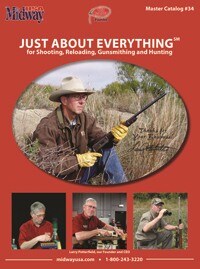 by MidwayUSA

Columbia, MO -

MidwayUSA, a catalog and Internet retailer offering JUST ABOUT EVERYTHING® for Shooting, Reloading, Gunsmithing and Hunting, is pleased to announce the release of Master Catalog #34. MidwayUSA really does have

JUST ABOUT EVERYTHING® including:
More than 27,000 Products for Shooters
More than 24,000 Products for Reloaders
More than 33,000 Products for Gunsmiths
More than 9,000 Products for Hunters
MidwayUSA's 1,050-page catalog features most of these products.
"Customers tell us every year they look forward to seeing this catalog in the mail," says Aaron Oelger,Vice President of Marketing. "This year's catalog has more pages and more products than ever before. With new categories like Camping and Self Defense, we know our Customers are going to value Master Catalog #34."
The new Master Catalog began mailing to current Customers in February. For new Customers, Master Catalog #34 is free with the first order. If a Customer is not yet ready to make a purchase, the catalog can be mailed for only the cost of shipping.