MidwayUSA Travels to Tennessee to Attend the NWTF Show as Official Sponsor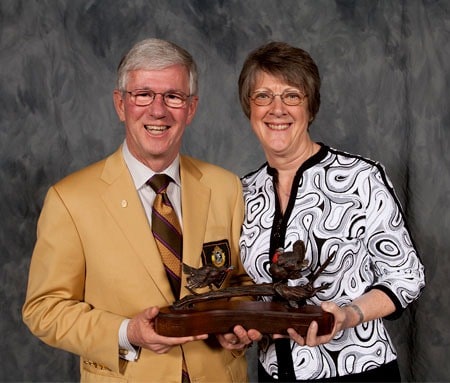 by MidwayUSA

Columbia, MO -

This weekend marks the end of the conservation show season for Founders of MidwayUSA, Larry and Brenda Potterfield. For the last two months, the Potterfields have been traveling across the country promoting a number of very important causes including the meaning of wildlife conservation, the significance of educating youth on shooting and hunting, and how the youth are the future defenders of our hunting heritage.
"America needs the NWTF for advocacy, for conservation, for hunting, and for our children," said Founder and CEO of MidwayUSA, Larry Potterfield. "The NWTF is one of our industry's biggest supporters of youth education and wildlife preservation, and my wife Brenda and I believe in supporting organizations whose overall mission and vision is to support the next generation of hunters and conservationists."
New for the 2012 convention is the Youth Wildlife Conservation Experience (YWCE), a program that invites local high school students from the Nashville community to the show in order to experience a wide variety of outdoor activities.
"Through the very generous support of Larry and Brenda Potterfield, we are bringing an entire ecology class to the convention for two days, providing multiple experiences designed to educate students about conservation concepts and familiarize them with careers in the wildlife conservation field," said Assistant VP for Education & Outreach Programs for the NWTF Tom Hughes.
While at the convention, Larry Potterfield will be meeting customers at 2:00 p.m. on Saturday, February 11, at the NWTF Board Member's Booth (# 400). Later that evening, Larry and his wife Brenda will be presented with the Lynn Boykin Hunting Heritage Award, an award in memory of the late Lynn Boykin, a former president and chairman of the board for the NWTF.
For more information about the NWTF, please visit their website or call 800-843-6983.
Contact:
MidwayUSA Public Relations
pr@midwayusa.com