MidwayUSA Welcomes Back Governor Nixon for Share the Harvest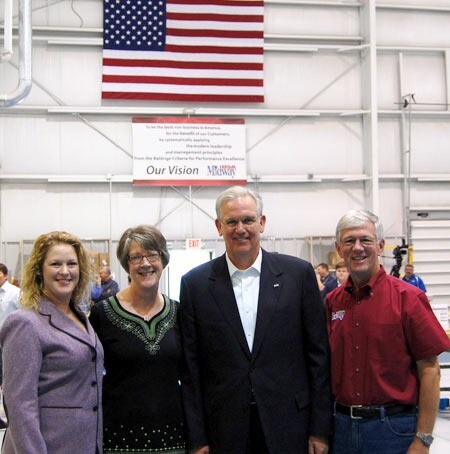 by MidwayUSA

Columbia, MO -

Over the last month, Governor Jay Nixon has been traveling across the state to encourage hunters to participate in the Share the Harvest program, a state-funded program that distributes donated venison to Missouri families in need. One of the Governor's stops was made yesterday to the MidwayUSA campus.

Owners of MidwayUSA Larry and Brenda Potterfield along with several employees and Customers welcomed Governor Nixon and Dave Murphy, Executive Director of the Conservation Federation of Missouri, back to MidwayUSA to speak about Share the Harvest.
"Share the Harvest is an important part of Missouri's proud tradition of sportsmanship and conservation," said Governor Nixon. "Thanks to the hard work of the Conservation Federation, the Department of Conservation and partners like MidwayUSA, participating is now easier than ever. I want to thank all the hunters who have made Share the Harvest so successful over the past two decades, and I encourage even more Missouri hunters to join me this year in helping our neighbors in need."
Last year, over 6,200 deer were donated and processed for Share the Harvest, resulting in over 370,000 pounds of processed venison for Missouri families in need. Now in its 21st season, the Governor is encouraging all Missouri hunters to help reach the 2012 goal of 10,000 donated deer.
The Governor also talked about the First Annual Governor's Youth Deer Hunt, an event beginning tonight in Kirksville, MO. Fifteen children from the Northeast Missouri area will join the Governor for dinner and will have an opportunity to hunt deer during Missouri's Youth Firearms Season this weekend.
"Brenda and I enjoy donating deer from our farm to Share the Harvest," said Larry Potterfield. "We're also very excited to hear about the Governor's new youth hunt. This opportunity supports something near and dear to our hearts – educating our youth on the importance of our hunting heritage and ethical hunting practices. We hope it's a huge success this year and for years to come."
To learn more about the Share the Harvest Program and to find a complete list of participating meat processors, please visit https://www.mo.gov/.
Contact:
Beth Cowgill
MidwayUSA Public Relations