MidwayUSA.com launches a new Homepage!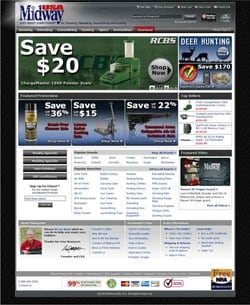 by MidwayUSA

Columbia, MO -

MidwayUSA, a catalog and Internet retailer offeringJust About Everything® for Shooting, Reloading, Gunsmithing and Hunting is excited to announce the launch of a new homepage and website design. These updates are designed to improve navigation and create a more user-friendly shopping experience for the Customer.
"MidwayUSA is always improving how we serve our Customers and our website is a critical piece of creating a great shopping experience. Our team studied Internet and eCommerce best practices before we began the design process and then tested the new application tools with small groups during the creation of the new MidwayUSA experience," said Adam Ray, vice president of eCommerce at MidwayUSA.
A major improvement is the site navigation bar for browsing, which reduces the browsing tabs from 21 categories to just seven (Shooting, Reloading, Gunsmithing, Hunting, Optics, Ammunition and Clearance), but still provides all information via "hover" menus. The new homepage even has a section that highlights a different GunTec video each week. However, all of the old favorites are still on the page, including Search, Featured Promotions, Top Sellers and others.
Since 1977, MidwayUSA has been improving the shopping experience. Visit midwayusa.com and take advantage of this fast, friendly and secure shopping experience.