MidwayUSA's NRA Round-Up Program Reaches $7 Million Milestone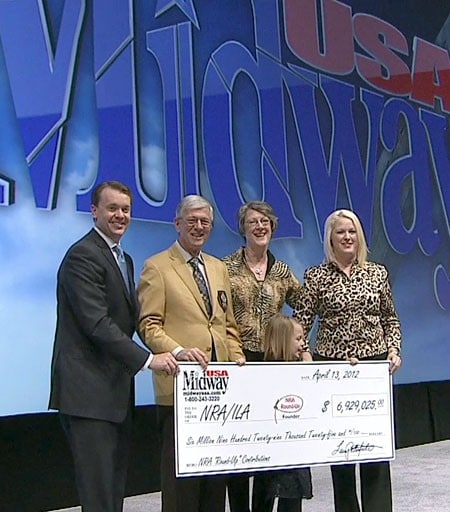 by MidwayUSA

Columbia, MO -

Twenty years ago, MidwayUSA owners Larry and Brenda Potterfield launched a special program that helps fund the fight against anti-gun initiatives. To date, this program has accumulated over $7 million in MidwayUSA Customer donations.

Created back in 1992, the NRA Round-Up program was developed to help raise funds for the National Rifle Association (NRA) and the Institute for Legislative Action (ILA). When Customers place an order with MidwayUSA by phone, mail or internet, they are asked if they want to "Round-Up" their order to the next highest dollar amount, with that amount going to the NRA-ILA endowment.
"Each week since the program started, we've sent a check to the NRA and they deposit it into a special fund called The National Endowment for the Protection of the Second Amendment," said Larry Potterfield. "The actual donations have never been spent, but each year, NRA-ILA spends five percent of the interest to fight anti-gun legislation. The next time you place an order with MidwayUSA, please round up. With your support, we can change the future."
At the 141st NRA Annual Meeting & Exhibits in St. Louis last month, the Potterfields, along with their daughter Sara and their granddaughter, presented a check to Chris Cox for $6,929,025.00, the total amount of money that has been donated by MidwayUSA Customers since 1992. The check presentation was done at the Celebration of American Values Leadership Forum on Friday, April 13, 2012.
"Every NRA member and every gun owner in America should be thankful for all that Larry and Brenda Potterfield have done for the cause of firearm freedom," said NRA Executive Vice President Wayne LaPierre. "Ever since they established the NRA Round-Up, the Potterfields – and all the MidwayUSA Customers who have supported that effort over the past 20 years – have continually raised the bar even higher when it comes to 'putting their money where their mouth is' to defend the Second Amendment. Along the way, they've inspired many others to make their own contributions to the NRA's mission, and we are deeply grateful for their leadership, friendship and trust."
While MidwayUSA founded the Round-Up program, other shooting industry companies have chosen to embrace the NRA Round-Up program as well. To date, these contributions total over
$9 million.
For more information about NRA/ILA, please visit their website or call 800-392-8683.
Contact:
MidwayUSA Public Relations
pr@midwayusa.com