MidwayUSA's Sponsored TV Shows win Golden Moose Awards at SHOT Show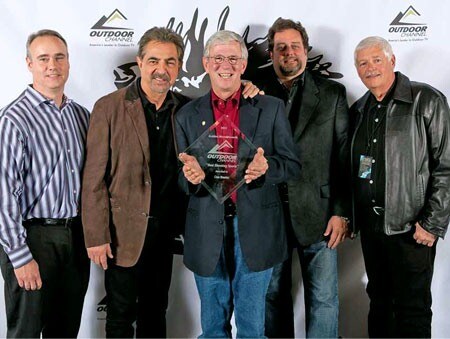 by MidwayUSA

Columbia, MO -

Each year at the SHOT Show, Outdoor Channel presents a GMA to individuals and show producers for their achievements in creating exceptional outdoor programing. The GMA's are the longest running outdoor awards ceremony in the industry, where Outdoor Channel's 18,000 viewers select the industry's best. MidwayUSA sponsors five shows on Outdoor Channel:
MidwayUSA's Gun Stories
MidwayUSA's The Best Defense
Shooting Gallery
Fox Pro Furtakers, presented by MidwayUSA
RMEF's Team Elk, presented by MidwayUSA
Two of these shows, Team Elk and MidwayUSA's Gun Stories, were nominated for awards in eight different categories and ended up taking home a total of three GMA's at the awards ceremony on January 19th.
MidwayUSA's Gun Stories, hosted by Joe Mantegna, allows viewers an inside look at some of America's favorite firearms. From the Remington 870 shotgun to the 1873 Colt Single Action Revolver, Gun Stories offers something for everyone, and was presented awards for Best Shooting Show and Best Educational Show.
"Gun Stories is meant to be an entertaining way to document an important part of our history that shouldn't be forgotten. The awards are an inspiration for all involved and will boost our efforts to do even better in season 2", said Marshal Halloway, editor of Down Range TV in charge of online marketing of Gun Stories as well as Shooting Gallery and The Best Defense.
Winning a GMA for Fan Favorite in a New Series, The Rocky Mountain Elk Foundation's Team Elk show first aired in July of 2011. Presented by MidwayUSA, the first season followed celebrities, outdoor personalities and RMEF members on hunts all across the western United States while keeping with their mission of helping to conserve elk habitat.
"We try to sponsor the type of shows our Customers care about," said Aaron Oelger, Vice President of Marketing at MidwayUSA. "Our Customers are shooters, reloaders, gunsmiths and hunters and we try to align their interests with great show content. We're excited this year that Outdoor Channel viewers recognized shows we sponsor with such high honors."
Contact:
MidwayUSA Public Relations
pr@midwayusa.com