MYSSA Gives Over One Million Dollars to Youth Shooting Sports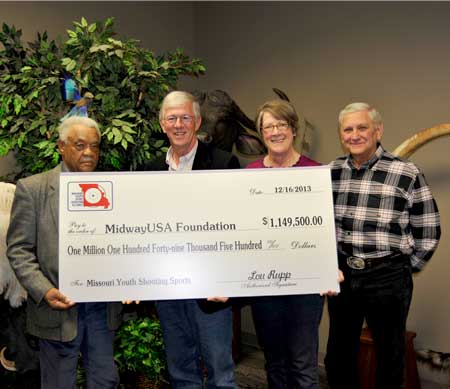 by MidwayUSA

Columbia, MO -

In an effort to promote and support youth shooting sports in Missouri, the Missouri Youth Sport Shooting Alliance (MYSSA) recently donated $1,149,500 to the MidwayUSA Foundation. This hefty donation is a big step in offering more opportunities to youth participating in shooting events such as trap, skeet and sporting clays.

MYSSA's Executive Director, Jan Morris spoke about this donation. "The Missouri Youth Sport Shooting Alliance is proud to provide this continuing support for Missouri's youth shooting programs. Shooting sports are among the fastest growing activities for young people and Missouri has increased both opportunity and participation." Currently, MYSAA has 75 affiliated schools and clubs, representing approximately 23,000 youth shooters.

The money is distributed to teams through MidwayUSA Foundation's Team Endowment Account Program. The MidwayUSA Foundation is a nonprofit charity that offers shooting teams across the country endowment accounts to help fund and sustain their shooting team. Once teams have established their account, they are eligible to apply for a grant each year for team expenses, such as ammunition, uniforms, equipment, travel, and more. "These trust funds ensure that these opportunities continue long into the future," said Morris.

To find a shooting team in your area or to learn more about the Missouri Youth Sport Shooting Alliance, visit www.moyouthshooting.org. Teams interested in starting an endowment account can contact the MidwayUSA Foundation at www.midwayusafoundation.org.