Potterfield Family Announces New Shooting Sports Program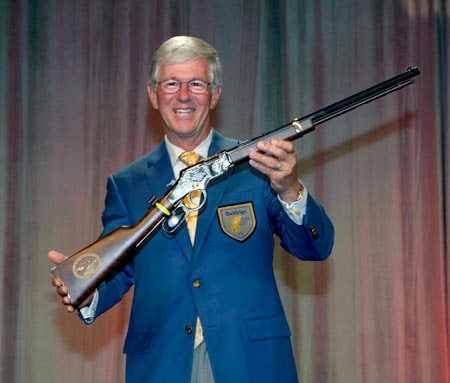 by MidwayUSA

Columbia, MO -

On August 24, MidwayUSA founder and CEO Larry Potterfield and Dick Leeper of the MidwayUSA Foundation traveled to Phoenix, AZ to formally announce the creation of the Larry and Brenda Potterfield Boy Scouts of AmericaShooting Sports program.

Standing in front of nearly 500 BSA executives and staff, Potterfield announced he and his wife would be contributing $500,000 to help kick-start this program. As long time supporters of their local BSA council, the Potterfields wanted to help more Scouts across America gain experience, confidence and expertise when it came to firearm safety and the shooting sports.
"The BSA is the country's greatest developer of leadership in youth and Brenda and I are strong supporters of programs whose objective is to help develop the leaders of tomorrow," said founder and CEO Larry Potterfield. "Shooting sports is one of the most popular activities in Scouting and this gift is designed to help more youth have that experience."
With an initial donation of $500,000, the BSA National Foundation hopes to award approximately 20 grants beginning in 2013. Grant funds may be used for, but are not limited to, the purchase of ammunition, firearms, targets, firearm cleaning supplies, eye and ear protection, awards, shooting facility fees and travel expenses for Scouts to attend approved shooting competitions.
"The BSA is extremely grateful to the Potterfields for this generous investment in the youth of America and our outdoor traditions," saidBSA National Foundation Director Stacy Huff. "We look forward to expanding our offering of premieryouth shooting sports programs through this partnership that will reach tens of thousands of Scouts across the country."
For more information about the Potterfield Grant, please contact the BSA National Foundationon their website (www.bsafoundation.org) or call (972) 580-2219.
About BSA
The Boy Scouts of America was founded in 1910 and serves nearly 3 million youth annually with leadership training and character development programs. Over 70,000 Scouts earn theShotgun or Rifle Shooting Merit Badges each year, which requires safety education, variousshooting sports experiences, and outstanding marksmanship.
Contact:
Beth Cowgill
MidwayUSA Public Relations
pr@midwayusa.com