National Wild Turkey Foundation Receives $1 Million Donation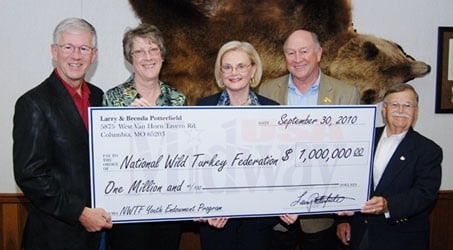 by MidwayUSA

Columbia, MO -

Larry and Brenda Potterfield of MidwayUSA recently donated $1 million to the National Wild Turkey Foundation to support youth shooting programs, including the JAKES Take Aim program.

The JAKES Take Aim program will provide opportunities for youths, ages 17 and under, to try shooting in a safe, fun environment. With the generous donation from the Potterfields, the NWTF aims to triple the annual number of youth shooting participants at its JAKES outreach events – from 50,000 to 150,000 youths – by 2014.
"Thanks to the generosity of Larry and Brenda Potterfield, more young people will have the chance to try shooting sports and may discover a passion that they will enjoy for the rest of their lives," said George C. Thornton, NWTF CEO. "This program will be a step toward solidifying the future of shooting sports in America."
Larry Potterfield, Founder and CEO of MidwayUSA, remarked, "Brenda and I believe in supporting youth programs that teach our next generation about shooting and shooting safety. The NWTF is doing a great job with our youth, who are the future of shooting, conservation and the outdoor industry. We are proud to help them change the future."
For more information about the NWTF and the JAKES Take Aim program, please visit www.NWTF.org/Jakes.