Potterfields Receive NRA Defender of Freedom Award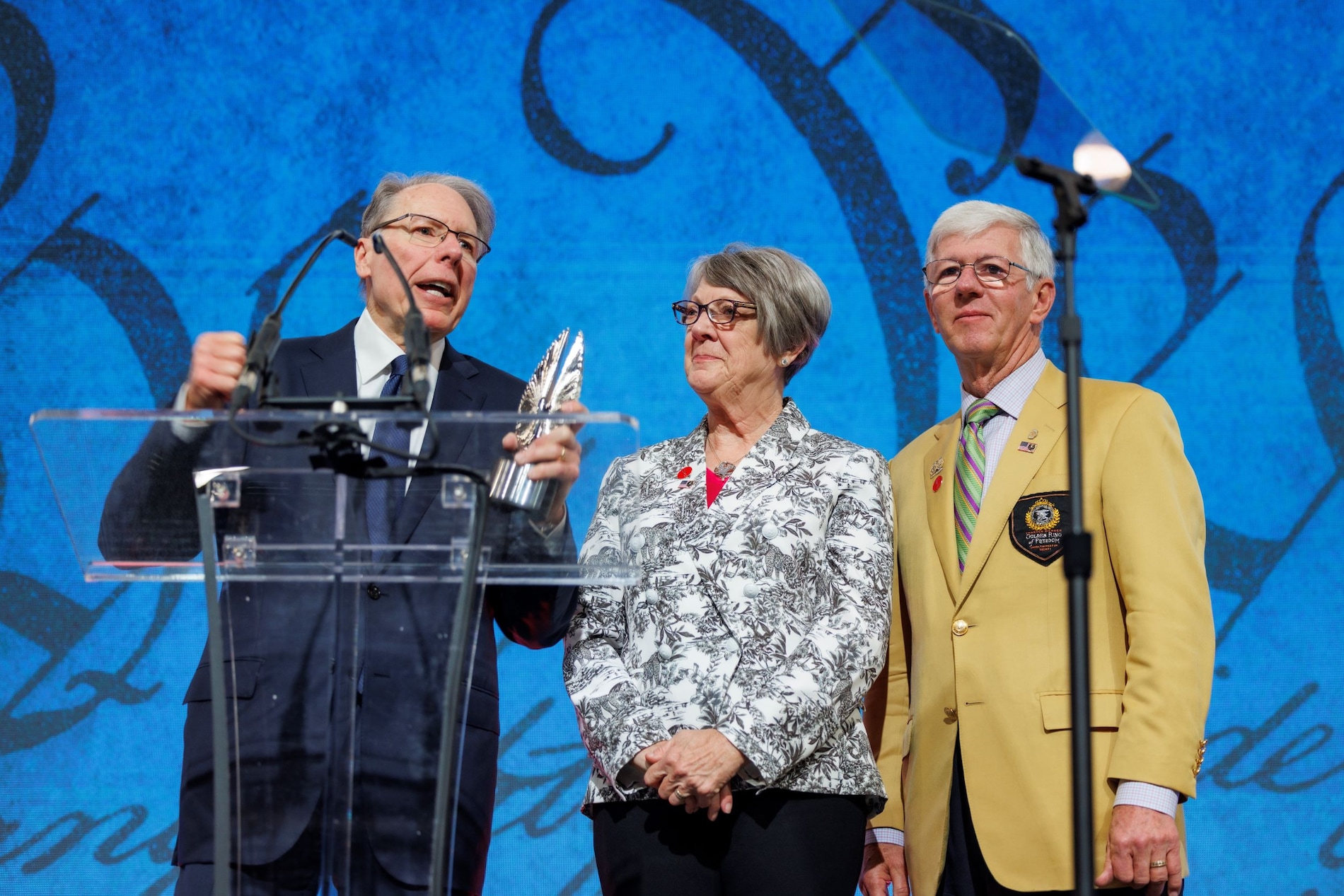 by MidwayUSA

Columbia, MO -

The National Rifle Association recently honored MidwayUSA owners Larry and Brenda Potterfield with the NRA Defender of Freedom Award. NRA Chief Executive Officer Wayne LaPierre presented the award to the Potterfields at the NRA-ILA Leadership Forum during the 151st NRA Annual Meeting & Exhibits in Houston, TX.

The NRA Defender of Freedom Award celebrates and honors an individual or family who inspires and embodies the qualities that define excellence in philanthropic leadership and Second Amendment advocacy. The criteria to receive the NRA Defender of Freedom Award are as follows:
Major Philanthropic Impact and Distinction
Dedication to the Second Amendment and the United States Constitution
Spirit of Integrity, Generosity, Respect and Strength of Character
Proud Commitment to American Values
Demonstrated Leader, Visionary and Trailblazer
And of course, Bold Defender of Freedom
In addition to being selected for the award, NRA Chief Executive Officer Wayne LaPierre announced a name change to the award. Going forward, the award will carry the Potterfield name – The Larry and Brenda Potterfield NRA Defender of Freedom Award.
"Brenda and I are honored to accept the NRA Defender of Freedom Award from the National Rifle Association," said Larry Potterfield, MidwayUSA Founder and Executive Chairman. "We give our time and money to the NRA because we believe it is the right thing to do – the NRA is the foremost guardian of our right to keep and bear arms. We hope others are inspired by our actions to do the same."
About MidwayUSA
Both country kids from Missouri, Larry and Brenda Potterfield turned their passion for shooting sports into a career by opening a small gun shop in 1977 that would eventually become MidwayUSA (https://www.midwayusa.com). They instilled family values like honesty, integrity and respect for others into the business, and strive to maintain this culture with each Employee added to their growing team. For over 44 years, MidwayUSA has maintained an unyielding focus on Customer Satisfaction and continues to offer JUST ABOUT EVERYTHING® for Shooting, Hunting and the Outdoors.
For more information on MidwayUSA, visit their website (https://www.midwayusa.com), find them on Facebook (https://www.facebook.com/OfficialMidwayUSA), or follow them on Twitter (https://twitter.com/midwayusa).

Contact:
MidwayUSA Public Relations
pr@midwayusa.com