Ryan Cokerham & Team US F-T/R take 2nd Place at the 2011 F-Class Nationals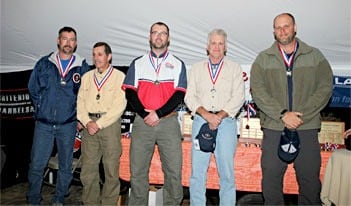 by MidwayUSA

Columbia, MO -

MidwayUSA, a catalog and Internet retailer offering JUST ABOUT EVERYTHING® for Shooting, Reloading, Gunsmithing and Hunting, is pleased to congratulate Ryan Cokerham, Graphic Designer at MidwayUSA, and the rest of the US F-T/R developmental team for winning Second Place at the 2011 F-Class National Championships held September 26th - 30th, 2011, at the Winnequah Gun Club in Lodi, WI.

Along with Cokerham, the team was made up of Dan Pohlabel, Mark Houseman, Chris Ozonlins and Coach Dale Carpenter. The classifications for F-T/R, or F-Class Target Rifle division, are the rifle caliber must be .223 Remington or .308 Winchester and is fired from a bipod. A rear rest or sandbag is permitted but the maximum rifle weight is 18.15 pounds.

Typically the 4-person team aggregate features the combination of 600 and 1,000 yard slow fire prone matches. This year, due to inclement weather, it consisted of only the 600 yard matches.
"I was selected to shoot on a developmental team put together and coached by Dale Carpenter, a member of the
US F-T/R team," says Cokerham. "With Dale's coaching and excellent wind reading skills, we were able to earn 2nd place in the F-T/R Team aggregate. It was an honor to compete with the top shooters in the Nation and represent MidwayUSA at the event."

"One of the reasons why MidwayUSA is such a great place to work is because our employees are passionate about this industry and our Customer's hobbies," said Larry Potterfield, Founder and CEO of MidwayUSA. "When they put on the Team MidwayUSA shirt, they represent the company and Brenda and I are really proud of them."
For more information about the Wisconsin F-Class Nationals, please visit https://wi-force.org.