Team MidwayUSA Members Compete at the 2012 Mammoth Sniper Challenge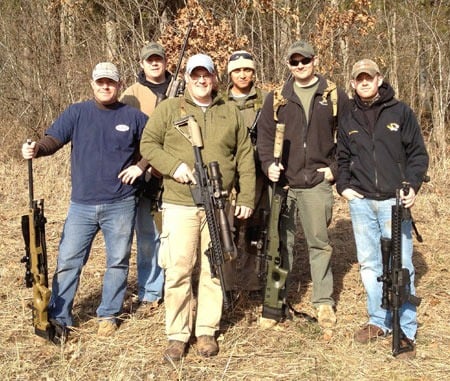 by MidwayUSA

Columbia, MO -

Held in Kentucky's historic cave region, the Mammoth Sniper Challenge match consists of two-person teams competing with primary and secondary shooters/firearms for an overall combined score across six main stages of fire. Two of the six members from Team MidwayUSA that attended the match placed in the Top 10. Peter Eiberger and Will Hemeyer placed first in the Regular division and sixth overall. Hemeyer used a custom Remington 700 and Eiberger used an SI-Defense .308 AR comprised entirely of parts available from MidwayUSA.
"This was our third time shooting this match and it is critical in a team-style match that the team members have great communication," said Will Hemeyer, Reloading & Ammunition Technical Specialist. "It's important to make a target engagement plan and stick to it, not to mention time management when engaging targets and good field tested data so you know how your rifle ammunition combination will react at long ranges."
The Mammoth Sniper Challenge is a 3-day, long-range precision team match with targets of varying shapes and sizes and ranging in distance from 10 yards to nearly 1,000. The combination of movement, shooting, and awkward obstacles tested the skills of every two-person team. The six stages vary between known distances and unknown distance targets. Only two of the stages allow the use of provided rangefinders; all others require field-expedient range-finding methods.
Other Team MidwayUSA members were Brad Fullbright and Theo Miller, who finished 32nd overall, as well as Ryan LeBeouf and Nick Mertz, who finished 44th overall. Congratulations!
For more information about the Mammoth Sniper Challenge, visit their website or call 770-634-2144.
Contact:
MidwayUSA Public Relations
pr@midwayusa.com