Today is MidwayUSA's 9th Annual Camo Tuesday!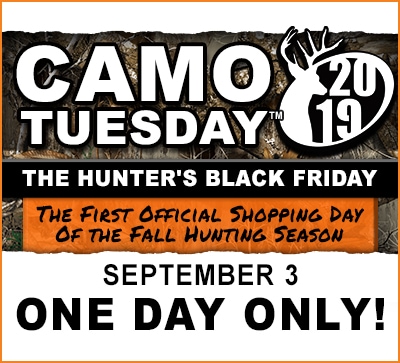 by MidwayUSA

Columbia, MO -

For the ninth year in a row, MidwayUSA is holding its Camo Tuesday Sale, a one-day event marking The First Official Shopping Day of the Fall Hunting Season!

Whether your target game has feather or fur, the key to a successful hunt is making sure you're prepared. MidwayUSA's Camo Tuesday sale has Just About Everything© you'll need for optimum outcomes, at great prices.

"To many of our Customers, the end of summer marks the beginning of the best time of the year – hunting season," said Jeff Larkin, VP Marketing. "Camo Tuesday celebrates this season by providing high quality hunting products at deep discounts. We like to think of it as the Black Friday for the hunter."

Visit https://www.midwayusa.com/camo-tuesday to take advantage of the great deals before they're gone! Plus, enter to win the 2019 Camo Tuesday Sweepstakes for your chance to win a hunting prize package valued at over $6,000 at www.midwayusa.com/sweepstakes.

About MidwayUSA

Both country kids from Missouri, Larry and Brenda Potterfield turned their passion for shooting sports into a career by opening a small gun shop in 1977 that would eventually become MidwayUSA (www.midwayusa.com). They instilled family values like honesty, integrity and respect for others into the business, and strive to maintain this culture with each Employee added to their growing team. For 42 years, MidwayUSA has maintained an unyielding focus on Customer Satisfaction and continues to offer JUST ABOUT EVERYTHING® for Shooting, Hunting and the Outdoors.