Top 10 Reasons to Attend the 2013 DSC Journeys Convention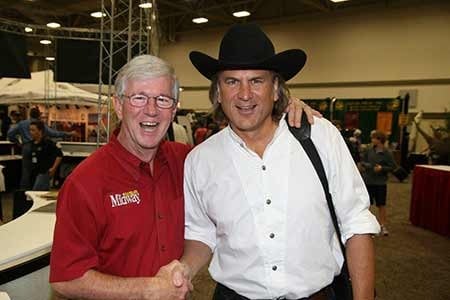 by MidwayUSA

Columbia, MO -

Beginning on January 3 and running through January 6, over 900 exhibitors and nearly 41,000 thousand anticipated attendees will flock to Dallas, TX for the 2013 Dallas Safari Club (DSC) Journeys conventionat the Dallas Convention Center and Omni Dallas Hotel.

Sponsored by MidwayUSA, the DSC Convention is always a fun time had by all. This year, DSC officials promise not to disappoint and have arranged hours of
fun for everyone!

Here are the Top 10 Reasons why you should attend the 2013 Journeys Expo (in no particular order):
Free Seminars from Master Hunters
Ladies Luncheon with LIVE Entertainment
New Member Show Special
Lions and Tigers and Bears, oh my! Gorgeous taxidermy around every corner!
All the people! Over 41,000 are expected to gather to show their support of the great outdoors
Over 600,000 square feet of booths
Chris Kyle, New York Times Best Selling Author of "American Sniper" at the Life Member Breakfast
Nightly Dinners and Award Programs
Silent & Live Auctions – African safaris, Canadian hunts, fishing trips, jewelry, art, and more (over $3.8 million worth of donated items – WOW!)
Meet MidwayUSA's Larry Potterfield
That's right! In addition to being the Official Sponsor of the expo, MidwayUSA's founder and CEO Larry Potterfield, his wife Brenda and MidwayUSA's President Matt Fleming will be attending the convention. On Friday night Larry Potterfield will speak at the Grand Banquet and help present the Education of the Year Award with Dallas Ecological Foundation (DEF) Chairman Bill Swisher. On Saturday, January 5 between 10:00-11:00 a.m., Larry will greet DSC members at the Membership Kiosk in Lobby D of the convention hall.
Also, back for the second year in a row is the Youth Wildlife Conservation Experience (YWCE), a program funded through a generous donation by the Potterfield Family. The YWCE is a partnership with MidwayUSA, the DSC and the DEF and brings in around 400 local high school students and introduces them to the wonderful world all things wildlife - ethical hunting, wildlife conservation, gunsmithing, duck calling and more.
For more information about the 2013 DSC Journeys expo, visit www.biggame.org for details or call 972-980-9800. See you in Dallas!
Contact:
Beth Cowgill
MidwayUSA Public Relations
pr@midwayusa.com