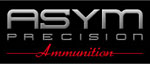 Using the finest components in the industry, ASYM Precision Ammunition was developed for shooters, by shooters. During quality control, each piece of loaded ammunition is hand inspected and chamber checked to ensure you're getting high quality rounds in each and every box. Competitive shooters, military and law enforcement personnel as well as hunters, can trust ASYM to perform consistently and accurately in every shooting situation.

This 9mm Law Enforcement / Defensive load features a 124 grain BONDED JHP, which features a patented bonding technology to lock the bullet jacket and core. This ensures reliable penetration and expansion through intermediate barriers such as auto glass, without separation of the jacket from the core. This load features nickel plated ASYM brass casings. It is loaded with a high performance, very low flash premium propellant.

Smith & Wesson Team Captain Julie Golob on ASYM Precision Ammunition:
"I have been using ASYM ammunition for a couple of years now. When titles are on the line, I need the very best. The confidence boost of knowing that I am going into national and world championships with ammo that is not only going to function flawlessly, but is also extremely accurate is huge. I know that when I make my best shots, ASYM will deliver. Whether I am competing or out in the field hunting, I rely on ASYM accuracy and reliability."
Made In {{countryOfOrigin}}