Product Overview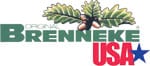 Brenneke slug ammunition is produced with high quality materials and as undergoes strict quality control to ensure their customers receive ammunition in excellent condition.

Recommended for big game and deer, SuperSabot slugs are lead-free and allows for the use of more powder. The slug creates higher velocities while keeping pressures down. Its jacket expands up to a full inch upon impact, while retaining excellent penetration. In testing, this slug creates a 2-1/2" 5-shot group at 100 yards. Designed specifically for rifled barrels only.

In order to have a safe shoot, Brenneke recommends the following Safety Tips:
Only use Brenneke slugs in modern shotguns known to be in good condition.
Make sure you use the proper length cartridge (2 3/4 inch or 3 inch) your gun is designed for.
Make certain you know if you are shooting a rifled or smoothbore barrel, and using the proper slug. Check with the gun's manufacturer if necessary.
When using a screw-in choke, make sure it is tightened securely. Brenneke recommends chokes no tighter than cylinder bore or improved cylinder when shooting their slugs.
Maximum range of a slug is up to 2000 yards! Be certain of what's behind your target.

Made In
Was this information helpful?