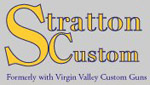 Made from aircraft quality aluminum, this hammer extension can be mounted for use by either left or right hand shooters. Practically required for any Contender or Encore equipped with a scope. Allows the shooter easy, safe access to the hammer. Works for any Encore and any Contender over serial number 196,000.

Technical Information

Material: Aircraft Quality Aluminum

Fits:

All T/C Encores (Standard & Pro Hunter Encores & G2 Contender)

All New Model T/C Contenders (over approximately 196,000 serial number)

Notes:

Ambidextrous (can be mounted on right or left side of hammer)

Lock screw inside knurled end of extension tightens against side of hammer to "lock" the extension in place.