Product Overview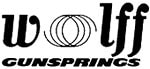 Contains a 23 lb Blitzschnell striker spring and a reduced power trigger/sear spring to improve trigger pull.

Notes:
Extra power striker spring decreases the lock time of the rifle. The lock time is the amount of time from the moment the striker is released from the sear until the striker hits and ignites the primer. The shorter the lock time, the shorter the time the rifle has to move off of the target.

Made In
Was this information helpful?