Product Overview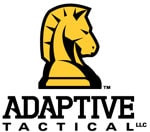 Features
Improved Firearm Versatility and Performance
Durable Polymer and Alloy Construction
Guaranteed Reliable Feeding
Ambidextrous Design
Go from empty to fully loaded in seconds with the Adaptive Tactical Sidewinder Venom Kit. This kit is for at home installation includes 5 round box magazine, forend with action bars, magazine tube, shell follower, barrel clamp, forend grip, kelly grip, emery cloth and installation guide. 12 gauge.
Notes:
The kits are compatible with 12 gauge pump action, 18.5" barrels with the 5/6 shot tube configurations. The components of the kit replace all the factory shotgun parts below the barrel and in front of the receiver.
Made In
Was this information helpful?