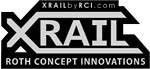 Roth Concept Innovations offers the RCI Xtension. This magazine extension allows shooters to increase capacity of their competition, hunting or home defense shotgun. Installation can be completed in minutes, and requires no permanent modification to the firearm. Machined of high grade aircraft aluminum, the tube and coupler are made from a single piece, eliminating the weakness of a threaded joint. The increased strength of the one-piece design does not require the use of a magazine-barrel clamp. If a clamp is desired to mount a sling or other acessories, there is a releif groove machined into the extension. This groove stops the clamp from sliding during recoil, which can both damage a barrel's finish and change the gun's impact from shot-to-shot. Also, additional +2 extenders can be added to increase the capacity.
Technical Notes:
Compatible with Mossberg 930 and 935 shotguns in 12 gauge only.
One-piece design for superior strength
Includes RCI high capacity follower and spring.
Allows shotgun to hold up to ten 2-3/4" shells
Length: 14.25"
Tube diameter: 1.125"
Weight: 6.7 oz
All extension tube assemblies come with an oversize magazine tube spring that must be trimmed to the appropriate length for the selected tube size. With the tube installed on the gun and end cap removed, insert the magazine tube follower and spring. For proper spring tension and cycling, trim the spring's length so that no less than 12" of it is exposed from the end of the extension tube with the end cap removed.
Made In {{countryOfOrigin}}