Product Overview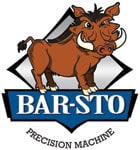 Bar-Sto Match Target Stainless Steel barrels exterior dimensions are oversized and must be fitted to your gun to provide the tightest fit possible. These barrels will improve accuracy up to 1-1/2" or better at 25 yards using match grade ammo. Requires fitting. Comes with a bushing, link, & pin.
Notes:

All Bar-Sto barrels are machined from solid stainless steel bar stock which has been heat treated to 180,000 PSI tensile strength (how hard it would be to tear the material, 90,000 pounds per square inch of pressure each direction).


Made In
Was this information helpful?