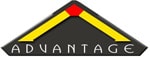 Features
5 differently colored front sights
5 differently colored rear sight inserts
Front and rear sight set screw hex keys
The Advantage Tactical Sight Set features a unique sight picture consisting of a pentagonal color front sight and pyramid shaped rear sight. When the sights are properly aligned, they form an arrow which simply needs to be pointed at the target. Each set includes five colors for the rear sight (white, yellow, red, orange, and green) and the same five colors for the front sight so each operator can customize the color combination for best results. Includes everything necessary for installation and adjustment.

Notes:

.044" of elevation shim. (pink = .015"; clear = .008"; tan = .004"; red = .002").
With the 709, the 9mm, start with .030" of shim with a 115 grain bullet. The 740 in .40 caliber may need only slightly less shim than the 9mm. Amount of shim will vary, depending on load and particular barrel. Approximately .002375" of shim will affect 1" of elevation at 25 yards. The Taurus 709 may not require professional installation for those familiar with sight installation.
Made In {{countryOfOrigin}}