Product Overview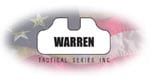 Warren Tactical's Sevigny Competition Sight Sets represent the collaborative efforts of champion shooters Dave Sevigny and Scott Warren. These patented variants feature the same hardened steel construction as the rest of the Warren Tactical Sights line, but with a rear sight profile designed with the competition shooter in mind. The back of the rear sight is angled slightly toward the shooter to virtually eliminate glare and the wide, simplified profile with 1/8" radiused edges offers a more traditional sight picture that's free of distractions. The .165" wide, square-bottomed rear sight notch offers a fast, clean, and accurate sight picture. Made in the USA.

Notes:
Rear Sight Type: Sevigny Competition
Rear Sight Notch Width: 0.165"
Rear Sight Dovetail: Novak
Front Sight Type: Fully Serrated Black Blade
Front Sight Height: 0.175"
Front Sight Width: 0.115"
Front Sight Dovetail: Novak, 0.330" (Width) x 65 Degree (Angle) x 0.070" (Depth)
Rear sight is drift adjustable for windage only, and comes with a set-screw to lock it in place once regulated. Slight fitting may be required for installation.

Novak type front sight dovetails can vary in Depth between different manufacturers. Depth can be as shallow as 0.060" or as deep as 0.075". Because of these variances, fitting may be required for installation.

Other front sight dovetail cuts and dimensions may exist. The ones listed here are applicable to the sights sold by MidwayUSA.

Made In
Was this information helpful?