Product Overview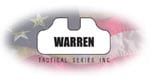 Warren Tactical Sights were designed by IDPA champion shooter and FBI Hostage Rescue Team veteran Scott Warren. Warren developed these sights to overcome the shortcomings of virtually every other sight on the market. After five years of testing various designs, Warren adopted the sights that would bear his namesake and become well known throughout the law enforcement and competition communities.

Ideal for use on a concealed carry or duty pistol, the unique, patented profile of the Warren Tactical rear sight body features a streamlined "wave" contour that's designed to sit low on the slide and reduce the likelihood of snags during the draw stroke. The U-shaped rear sight notch is .150" wide, allowing for ample light on either side of the front sight for faster acquisition in all lighting conditions. In addition to its wide field of view, the notch's round bottom creates a noticeable contrast with the square front blade to help funnel the shooter's eye toward the front sight. This night sight set pairs a single dot Tritium Warren Tactical rear sight with a single dot Tritium front blade, producing a self-luminous "figure 8" sight picture that's easy to see in no- or low-light environments. The front sight's .050" diameter green Tritium lamp is surrounded by a .100" diameter white ring that resembles a standard white dot for daytime use. Made in the USA.

Notes:
Rear Sight Type: Warren Tactical, Single 0.040" Dia Tritium Dot
Rear Sight Notch Width: 0.150"
Rear Sight Dovetail: Novak
Front Sight Type: 0.050" Dia Green Tritium Lamp w/0.100" White Outline
Front Sight Height: 0.165"
Front Sight Width: 0.115"
Front Sight Dovetail: Novak, 0.330" (Width) x 65 Degree (Angle) x 0.070" (Depth)

Rear sight is drift adjustable for windage only, and comes with a set-screw to lock it in place once regulated. Slight fitting may be required for installation.

Novak type front sight dovetails can vary in Depth between different manufacturers. Depth can be as shallow as 0.060" or as deep as 0.075". Because of these variances, fitting may be required for installation.


Made In
Was this information helpful?