Product Overview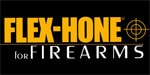 Features
Twisted steel wire shaft
Abrasive globules on flexible nylon filaments
400 Grit Material
Honing the mainspring housing of a 1911 significantly improves your ability to cock the hammer. It also reduces the metal on metal wear of the moving parts, and reduces corrosion because the treated surface is better able to hold oil and lubricant.
Notes:
The manufacturer recommends the use of Flex-Hone® oil for use with these hones. It is specially formulated for use with Flex-Hone® hones


Made In
Was this information helpful?