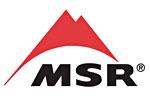 Features
Unrivaled Flame Control: MSR pioneered the dual-valve design of the Dragonfly stove, enabling it to deliver precision simmer-to-boil control with a simple twist of the flame adjuster
Extra Wide Pot Supports: Three wide pot supports hold larger (up to 9" maximum diameter) MSR pots or fry pans for group cooking
Multi-Fuel: Burns white gas, kerosene, unleaded auto fuel, diesel, and jet fuel
Compact: Folds to 1/3 of its working size and fits in a 2-liter MSR pot for easy storage
Efficient: The suspended burner cup enables the stove to burn hot and strong while reducing heat lost to the ground
Field Maintainable: Shaker Jet technology and smart engineering allows complete cleaning and maintenance in the field
Made in the USA
The Dragonfly liquid-fuel camp stove takes precision-simmering performance and puts it in a chassis that's built to handle a variety of fuels and the frequent use dished-out by global vagabonds. Tough and stable, it excels in institutional and guide service settings. Its dual-valve design gives you the flame control you need for evenly heating large pots (up to 9" maximum diameter) of crowd-pleasing gruel. Of course, when the need arises to melt snow and brew-up fast, the DragonFly goes from zero to searing at the twist of a knob.
Package includes: Fuel pump, windscreen, heat reflector, small-parts kit, instructions, and stuff sack.
Fuel bottle not included.

Technical Information
Dimensions: 6.3" x 5" x 3.5"
Weight: 14 oz
Average Boil Time: 3.5 mins with white gas or diesel; 3.9 mins with kerosene (1 Liter)
Average Burn Time: 126 mins (20 oz white gas), 153 mins (20 oz kerosene), 136 mins (20 oz diesel)
Auto Ignition: No
Fuel Type: White Gas, Kerosene, Diesel, Unleaded Auto Fuel, Jet Fuel
Fuel Bottle Type: Reusable Fuel Bottle
Fuel Bottle Included: No
Made In {{countryOfOrigin}}