Product Overview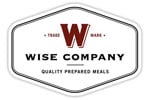 Features
Great Taste
Extended Shelf Life
Quick Cook? Smart Packaging
Light Weight and Condensed Grab and Go Food Kits
Affordable
The Wise Company Grab N' Go line of freeze dried food are an ideal way of preparing for emergencies. Wise Company freeze dried meals are sealed in airtight, 4-serving, nitrogen-packed mylar pouches and stored in a reusable square plastic container. Wise Freeze Dried food Grab N' Go kits have up to a 25 year shelf life with NO rotation needed. The unique 4-serving packaging size means you can continue to rotate through your inventory and not suffer from "menu fatigue" or worry about food spoilage.
A prepper pack designed to get you started with your preparedness needs. The new recipes from Wise Company have less sodium and trans fat. This kit has five entrees, two breakfasts, and two beverages for a total of 52 servings of the popular Gourmet meals and drinks.

Package Includes:
Creamy Pasta and Vegetable Rotini (4 Servings)
Savory Stroganoff (4 Servings)
Tomato Basil Soup with Pasta (4 Servings)
Southwest Beans and Rice (4 Servings)
Brown Sugar and Maple Multi-Grain (4 Servings)
Apple Cinnamon Cereal (4 Servings)
Orange Delight Drink Mix (16 servings)
Whey Milk Alternative (12 Servings)
Made In
Was this information helpful?