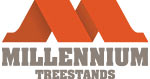 Features
Steel construction
Mesh seat
Utilizes traditional chain-on attachment system
Includes backpack style carry straps
Includes Safe-Link 35' safety line
Foot rest included
Product meets or exceeds industry standards recognized by TMA
Millennium now brings their award winning mesh seat to the market at a price point any hunter can afford. The M25 hang on features all steel construction and utilizes a traditional chain on system for easy hanging. The M25 is light weight and is the ideal choice for the run-and-gun hunter!

Technical Information:
Material: Steel
Stand Weight: 19 lbs.
Tree Size: 8-20" diameter
Seat Height: 21"
Seat Size: (base) 20" wide by 16" long
Platform Area: 24" wide by 33" long
Weight Limit: 300 lbs.