Product Overview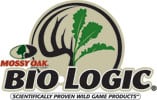 BioLogic Trophy Oats is an extremely potent deer attractant that is easy to plant and grow. It is a blend of an early maturing oat and a cold tolerant oat to provide attractiveness from the early through the late season. It has proven itself as far north as Minnesota and as far south as Mississippi, so wherever you are this blend should work.

Seed Content: Oats
Canadian Planting Zone: N/A
North Planting Zone: Late Summer
Transitional Planting Zone: Late Summer. Fall
South Planting Zone: Fall
Seeding Rate: 90 lbs per acre
Planting Depth: 1-2 inch
Fertilizer Recommendations: 10-10-10 fertilizer @ 350-400 lbs/acre
Made In
Was this information helpful?