Product Overview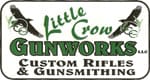 Little Crow Gunworks developed the Worlds Finest Trimmer as a precision tool that will last a lifetime. One of the unique features is that the uses a source of power that most reloaders already own... a cordless or electric drill. All reloaders have to do is adjust the trimmer to their desired preference then simply chuck the WFT into the drill and start feeding cases by hand. A pace of 10 cases per minute is easy to maintain and some experienced users can trim faster than that.

This is a replacement factory cutter that will replace a worn out cutter on the Original World's Finest Trimmer. This carbide cutter is 5/16" with a 3/8" shaft. If your Worlds Finest Trimmer is getting a little dull this new cutter will bring the life right back into the trimmer.
Made In
Was this information helpful?