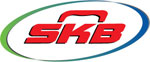 Features
Capable of accommodating 3-6 handguns or other gears.
Padlock holes include stainless steel padlock protector clips.
Cushion grip handles on three sides for comfortable lifting and carrying.
Waterproof and dust tight design (MIL-C-4150J).
Molded-in hinge for added protection.
Trigger release latch system.
Snap-down rubber over-molded cushion grip handle.
Ambient pressure equalization valve (MIL-STD-648C).
Resistant to UV, solvents, corrosion, fungus (MIL-STD-810F).
Resistant to impact damage (MIL-STD-810F).
Lifetime Warranty.
$1500 Content Coverage.
Proudly made in the U.S.A.
The iSeries 1813-5 Waterproof Utility Case is injection molded from ultra high-strength polypropylene copolymer resin, material specified by the U.S. military for cases and containers. It features a gasketed, water and dust-tight submersible design, meeting military standard MIL-C-4150J. The automatic ambient pressure equalization valve self-regulates for different altitudes meeting military standards MIL-STD-648C and IP67.

It is resistent to UV, solvents, corrosion, fungus and impact damage, surpassing military standard MIL-STD-810F. The case features a continous molded-in hinge with stainless steel pin, a patent pending "trigger release" latch system, and a comfortable, snap-down, rubber over-molded handle.

The iSeries 1813-5 Mil-Spec Pistol Case is comfortable and durable in transport and secure and stable in storage thanks to SKB's interlocking case design. With two padlockable eyelets, the 3I-1813-5B-L is completely secure. Capable of accommodating 3-6 handguns with its layered convoluted foam interior, the iSeries 1813-5 Mil-Spec Pistol Case is backed by SKB's Unconditional Lifetime Warranty.
Technical Information
Material: Polymer
External Length: 20.1"
External Height: 15.7"
External Width: 5.8"
Internal Length: 18"
Internal Height: 13"
Internal Width: 4.75"
Common Fit: Most Large Frame Pistols & Revolvers with 12" Barrels & Smaller.
Weight: 9.43 lbs
Padded: Yes
Padding Thickness: 2.65"
Padding Type: Egg Crate
Handle Type: Folding
Latch Type: Friction
Waterproof: Yes
Lockable: Yes
Lock Type: 2 Padlocks (Not Included)
TSA Approved: Yes
Note: All gun cases are designed primarily for transportation and not for long term storage. Long term storage of a firearm in any case may result in corrosion and damage to the firearm finish.