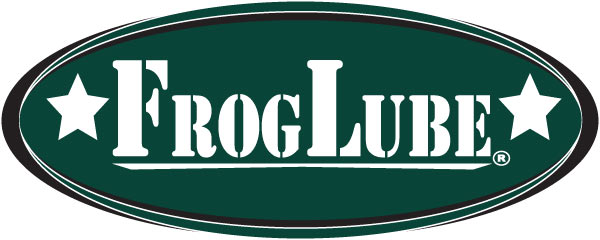 Features
Creates a durable and dry slippery surface that reduces friction and dissolves carbon on contact.
Liquid and Paste can be used interchangeably as a CLP. The liquid was designed to penetrate into the internals and the paste serves well as a "stick where you want it" lubricant for the externals.
Froglube contains no known toxins, so it is safe to handle or to come in contact with skin and will not irritate eyes.
Firearms parts can be warmed before application to improve the application and absorption. A few minutes in the sun will do it, or apply right after shooting when weapon is hot.
When used repeatedly, Froglube eases later cleaning.
Acts extremely well as a rust preventative
The FrogLube FrogTube has arrived! A complete weapons care system in one convenient carry tube. Contents: 1 oz FrogLube Solvent, 4 oz FrogLube CLP Paste, 1.5 oz FrogLube CLP Squeeze Tube, Brush and Towel.
Perfect for grab and go! Toss one in your bag today!
FrogLube is the only firearms care products company that uses exclusively bio-based and food grade ingredients to meet existing firearms operating and care requirements. FrogLube products are engineered to deliver a 'tangible and immediate enhancement' from the initial use of the product and also produce a succession of following benefits resulting from the switch to bio-based care products. Weapons lubrication and cleaning products are MANDATORY to the proper operation and maintenance of a firearm. The use of gun care products is NOT AN OPTION. People have become accustomed to choosing products based on minimal criteria, such as friction reduction and corrosion resistance. The FrogLube bio-based/food grade combination adds non-flammability, non-toxicity, anti-oxidation, non-hazardous, de-carbonizing, all-temperature performance and long lasting durability to this list.
Technical Information
Ingredients: Petroleum-Free, Non-Toxic, Proprietary formula
>