Product Overview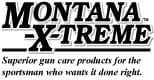 Features:
Thick bore cleaner for copper, lead, plastic, moly and powder fouling
Non-embedding and non-abrasive
Montana X-Treme recommends this product for break in of new barrels
Copper Cream is a no-drip bore cleaner that quickly removes all form of fouling including copper, lead, plastic wad residue, powder fouling and moly. Cream is non-embedding and non-abrasive to barrel metals. Perfect for breaking in your new barrel.

Made In

United States of America
Was this information helpful?