Product Overview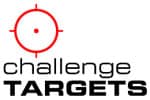 Features
This model is rated for all handguns and rifles with muzzle velocities under 3,100 fps
Target stand locks in upright position or pivots and falls when hit
3/8" thick AR500 target slips on and off standard wood 2x4 post
Target plate matches the center "A" Zone on an IPSC target (5.9"x11")
Reversible target plate for extended life
Adjustable forward lean for different calibers
All-weather design with powder coat finish is capable of year-round outdoor use
Heavy 1/4" steel construction helps protect against errant handgun shots
Diagonal footprint of stand measures 37"
Height is adjustable: 2x4 wood post not included
Great for IDPA or IPSC target practice or competitions
Portable; Includes front carry handle and weighs only 25 pounds!
The Challenge Targets HD Pivot Target Stand with 5.9" x 11" Steel IPSC A Zone Rifle Plate is a dual functioning handgun target. With the lock pin installed, the target bounces back when shot then resets to the forward leaning position. With the lock pin removed, the target falls over like a popper with a hit on target. The innovative four point base elevates the center of the stand so the weight is supported by the outer contact points. This reduces wobble and provides stability on uneven terrain. The target stand legs are notched for staking for extra stability (stakes not included). The target accepts standard wood 2x4 (not included) that can be cut to your desired length and changed out in seconds without any tools. The steel target plate is laser cut to reduce heat and preserve the hardness of the AR500 steel. Challenge Targets' Head Assembly uses high strength carriage bolts and heavy die springs rather than welds for mounting. This allows the target plates to be reversed which increases life span and keeps the shooting surface flat and smooth. The steel plate leans forward at a 30 degree angle, so bullet splatter is safely deflected to the ground.

Made In
Was this information helpful?