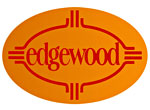 The Edgewood Hand Rest (also called a brick bag) is excellent for resting your hand or wrist on if you shoot Benchrest, free recoil style. It also makes a great elbow bag. One end is sloped slightly, so this bag would work well as a rear bag for a hunting or varmint rifle in the field. The Hand Rest is manufactured from high quality, grained-leather with a stiff, double layer bottom so it sits flat. It has the new bottom-location fill-tube with a convenient tuck-flap. The bag is 7-1/2" long, 5" wide and 2-3/4" tall when filled full. You can vary the height and softness of the bag by using less sand. 100% Made in the U.S.A., these bags are beautifully crafted in Edgewood, New Mexico.

Technical Information: Edgewood Hand Rest / Brick Bag

Length: 7-1/2"
Width: 5"
Height: 2-3/4"

Note: (From manufacturer) This bag makes a great elbow rest for the middle console of many vehicles. When filled with a lighter/softer-than-sand material (such as popcorn, rice or small beans), it makes a comfortable place to rest your right elbow while driving. This can help to relieve the strain on your right arm during those long drives to the shooting match!