Product Overview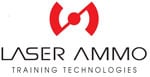 As with all Laser Ammo SureStrike training cartidges, this model features a microprocessor controlled primer which activates the laser also performs as a snap cap, keeping the firing mechanism safe from damage while dry firing. This model is designed for use with firearms chambered in .223 Remington /NATO 5.56mm, such as an AR-15.
Includes 3 reflective targets.
Made In
Was this information helpful?