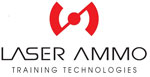 The Laser Ammo SureStrike Dry Fire Training System Long Safety Pipe is designed to work with the SureStrike system, allowing it to be used in pistols with different length barrels. This safety pipe is used in place of the short safety pipe, which is included with the laser unit. Place the safety pipe in the barrel and attach the laser unit for dry fire practice with no danger of accidently chambering a round because the barrel and chamber are safely blocked.

Technical Information:
Fits handgun barrels 3.5"-4.8"
Made In {{countryOfOrigin}}