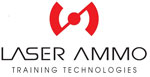 The SureStrike™ L.A.S.R. Range is a dream realized– A range in your own home! Take your training to the next level in the comfort of your own home with an indoor virtual range . Time, money and schedule are all excuses we have used to not make it to the range.
The SureStrike Laser Range from Laser Ammo includes L.A.S.R. Pro software to provide the user with instant feedback on shot placement and times, enhancing your training value with real time feedback. Not only will this technology help you improve the value of dry fire sessions but it will also ensure your marksmanship fundamentals are sound. You can practice nearly any drill that you would normally do at the range and see your shot placement and times, so you know exactly how you are improving or what you need to work on.
When shooting the SureStrike the software detects a laser pulse and emits an audible tone, marks the location of the shot, and notes the time. The L.A.S.R. Pro software allows you to designate up to 9 target zones that will be detected by your webcam.
Kit Includes:
L.A.S.R. Pro software
9mm SureStrike laser cartridge with dedicated target activator/simulator cap
.40 S&W caliber adaptor
.45 ACP caliber adapter
Additional battery for extended use
Requirements:
All you need is a PC computer (Windows OS) and a webcam (minimum resolution 640x480)
Made In {{countryOfOrigin}}